On Sunday, July 27th, Willards Little League stormed Jolly Roger Water Park for our 2014 Family Fun Day! Dozens of families participated in the event that is sure to become a yearly tradition. Despite some early morning showers and threatening clouds to the south of us, the weather during the day was perfect.
The kids (and adults) enjoyed the lazy river, wave pool, playing volleyball, and of course, the many slides at the park. It was great to see everyone smiling and having a good time.
What a great way to end our 2014 Willards Little League season!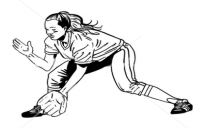 Snow Hill High School will be hosting a Softball Summer Camp August 4th – 7th.
Grades 3-6 will be 2-4pm
Grades 7-9 will be 4:30 – 6:30pm
Camp will be held at John Walter Smith Park
Fee will be $50 with all proceeds benefiting the Snow Hill High School softball program.
Camp will cover all aspects of softball.
For more details contact
Allen Welch 410-430-1725
David Hall 410-430-0646