Congratulations to the District 8 Delmar 9/10 Boys for becoming the 2013 Maryland State Champions! Delmar played an outstanding tournament, finishing the tournament undefeated. Solid pitching, defense and hitting were demonstrated during each of their games.
Last night's game between Delmar and Thurmont was a rematch of an earlier meeting in which Delmar rallied back from behind in the bottom of the 6th inning to upset Thurmont 3-4. Thurmont was looking to hand Delmar its first loss and force a Friday night game when they took to the field last night. Thurmont made this very clear by scoring the first 2 runs of the game in the bottom of the 2nd inning. Delmar answered in the top of the 3rd by putting a run of their own on the board, making the score 2-1. In the top of the fourth inning, 4 more runs were added by the Delmar bats, taking the lead from Thurmont with a score of 5-2.
The game was extremely close from the beginning, and even when Delmar took the lead, it was clear that Thurmont was not giving up. Garrett Mayhew of Thurmont went 2 for 4 with 2 singles forcing Delmar to play top notch defense. Thurmont had fans on both sets of bleachers on the edge of their seats, as they simply refused to give in. Despite playing with tons of heart, Thurmont's late game rally just wasn't enough to overcome Delmar, as Delmar took the victory with a score of 8-5. For Delmar, Gabe Rincon went 3 for 3 with 3 singles and Gavin Roystuart went 2 for 2 with a single and double. Delmar's winning pitcher was Luke Waters.
The next step for Delmar is the Regional Championship being held in Cranston, Rhode Island from August 2nd – 10th. We wish them the best of luck, and know that they will not only represent District 8 well, but also the entire state of Maryland. Way to go guys!
Thank you to ALL of the teams that participated in the 2013 9/10 Maryland State tournament. It was an honor hosting this event, and we hope that players, parents, friends and fans had a fun, positive and memorable experience at the Willards Little League facilities!
Maryland 9/10 State Champions – Delmar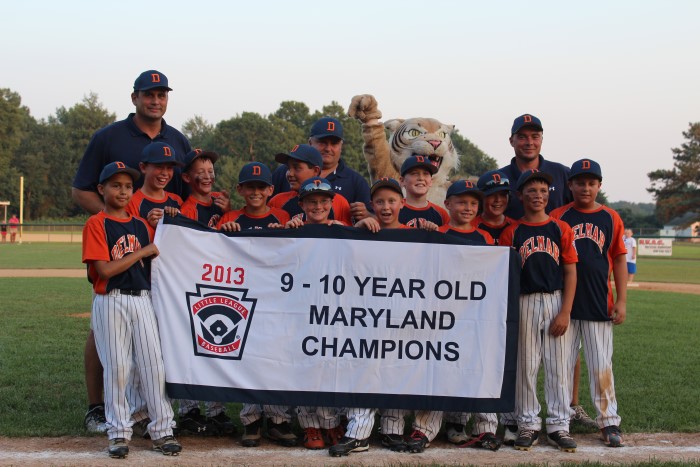 Maryland 9/10 Runner-Up – Thurmont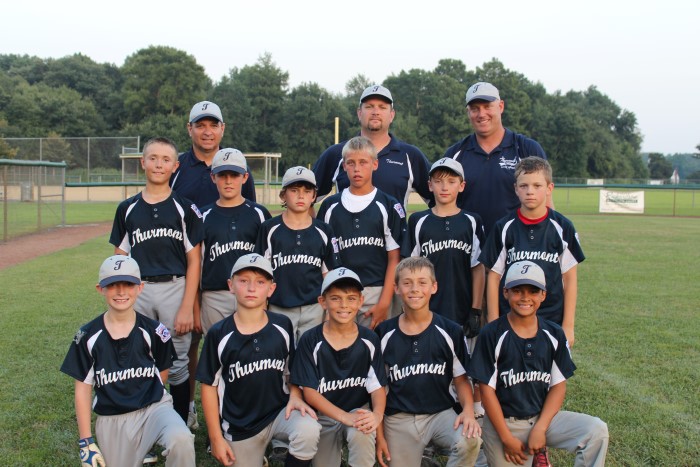 Congratulations to the Elkton All Stars for their outstanding performance in the Maryland 9/10 State Tournament!